=====Issue====
After ISP upgraded the link from 100Mbps to 350Mbps, the customer cannot get the speed of 350Mbps, checked all paths and confirmed there is NO QoS, Policing, or bandwidth limiting setting anywhere along the way. Tested directly using a laptop with direct public IP and NO issue.
====Environment====
Cisco 4331 Router with 350/350 Mbps internet link
====Troubleshooing====
After confirming with a direct laptop test, we nailed down the root cause must be on the router, since we have also ruled out the possibility of configuration issues. we started looking at licensing. Here we found the issue, it is ONLY licensed up to 100Mbps by default!
Router#show platform hardware throughput level
The current throughput level is 100000 kb/s
====Temporary Fix====
Temporarily enable the Performance License, it has the expiration of 60 days:
Router#conf t
Enter configuration commands, one per line.  End with CNTL/Z.
Router(config)#platform hardware throughput level ?
  100000  throughput in kbps
  300000  throughput in kbps

Router(config)#platform hardware throughput level 300
Router(config)#platform hardware throughput level 300000 ?
  <cr>  <cr>

Router(config)#platform hardware throughput level 300000
         Feature Name:throughput

PLEASE  READ THE  FOLLOWING TERMS  CAREFULLY. INSTALLING THE LICENSE OR
LICENSE  KEY  PROVIDED FOR  ANY CISCO  PRODUCT  FEATURE  OR  USING SUCH
PRODUCT  FEATURE  CONSTITUTES  YOUR  FULL ACCEPTANCE  OF  THE FOLLOWING
TERMS. YOU MUST NOT PROCEED FURTHER IF YOU ARE NOT WILLING TO  BE BOUND
BY ALL THE TERMS SET FORTH HEREIN.

Use of this product feature requires  an additional license from Cisco,
together with an additional  payment.  You may use this product feature
on an evaluation basis, without payment to Cisco, for 60 days. Your use
of the  product,  including  during the 60 day  evaluation  period,  is
subject to the Cisco end user license agreement
http://www.cisco.com/en/US/docs/general/warranty/English/EU1KEN_.html
If you use the product feature beyond the 60 day evaluation period, you
must submit the appropriate payment to Cisco for the license. After the
60 day  evaluation  period,  your  use of the  product  feature will be
governed  solely by the Cisco  end user license agreement (link above),
together  with any supplements  relating to such product  feature.  The
above  applies  even if the evaluation  license  is  not  automatically
terminated  and you do  not receive any notice of the expiration of the
evaluation  period.  It is your  responsibility  to  determine when the
evaluation  period is complete and you are required to make  payment to
Cisco for your use of the product feature beyond the evaluation period.

Your  acceptance  of  this agreement  for the software  features on one
product  shall be deemed  your  acceptance  with  respect  to all  such
software  on all Cisco  products  you purchase  which includes the same
software.  (The foregoing  notwithstanding, you must purchase a license
for each software  feature you use past the 60 days evaluation  period,
so  that  if you enable a software  feature on  1000  devices, you must
purchase 1000 licenses for use past  the 60 day evaluation period.)

Activation  of the  software command line interface will be evidence of
your acceptance of this agreement.


ACCEPT? (yes/[no]): yes
% Please write mem and reload
% The config will take effect on next reboot

====Permanent Fix====
Purchase the Boost License for Cisco 4000 serial router license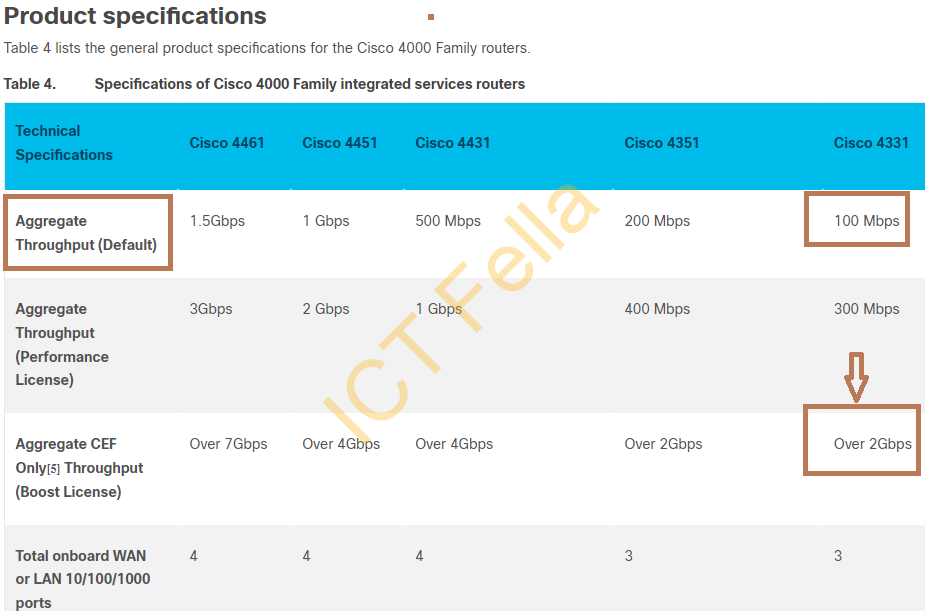 Useful links
Cisco 4000 Family Integrated Services Router Data Sheet – Cisco