Problem
The affected end-user has been Migrated into Teams Only mode with Direct Routing configured, he is having a call forwarding issue after that: Call Forwarding rules are NOT enabled in Teams application but all the calls to this number are being forwarded to his mobile.
Environment
AudioCodes SBC has been implemented for both the Skype for Business and Teams during the Teams Migration
Some of the users are still in "island mode" with Skype for Business enterprise voice enabled
Audiocodes SBC has both Skype for Business and Teams "IP to IP routing rules" in place as we are in the middle of a transition
Troubleshooting
Since there is NO call forwarding enabled in the Teams application, the focus is on the SBC and Skype for Business 2019 side.
Enable logging on Audiocodes SBC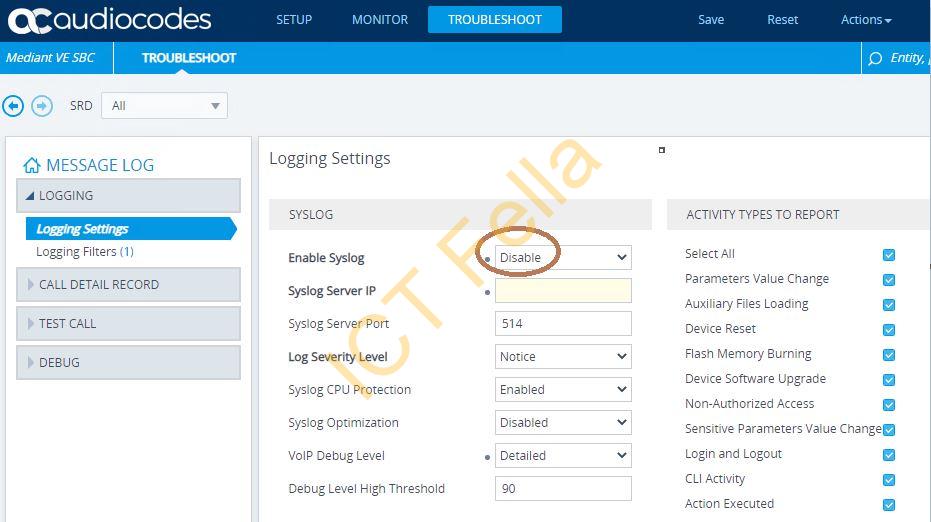 Collect the logs via Audiocodes Syslog Viewer (the most helpful tool for Audiocodes SBC troubleshooting 🙂

After checking the log we discovered that the call is still actively routed via Skype for Business 2019 server even the end-user is full "Teams Migrated".
Digging into Microsft doc and found there is a newly released PowerShell to check call forwarding for an individual user in SFB 2019:
Get-CsUserCallForwardingSettings -User [email protected]
And we found the call forwarding is enabled for this user on the SFB 2019 side, the fix is painful.
Solution
Step 1
Migrate the use back to "islands mode" and moved back to SFB 2019 server and disabled forwarding
Grant-CSTeamsUpgradePolicy -Identity [email protected] -PolicyName Islands
Move-CsUser -Identity sip: [email protected] -Target SFB.contoso.com (your Skype 2019 server FQDN)
Set-CsUserCallForwardingSettings -User [email protected] -DisableForwarding
Step 2
Migrate the user back to Teams again…
Please note: Checking call forwarding PowerShell are only available in Skype for Business 2019
https://docs.microsoft.com/en-us/powershell/module/skype/get-csusercallforwardingsettings?view=skype-ps