Migrating from an old Palo Alto firewall to a new one involves a few more considerations, especially if the models or PAN-OS versions differ. Here's a comprehensive approach:
1. Preliminary Steps:
Document the current environment: This includes interface configurations, routing setups, NAT rules, security policies, VPNs, and any custom settings.
Ensure compatibility: If the new firewall is a different model or runs a different PAN-OS version, some configurations might not be directly compatible. It's recommended to check Palo Alto's official documentation or consult with their support about any model-specific considerations.
2. Backup and Export Configuration:
Export the configuration from the old Palo Alto firewall. Here suggest using "set" format so you can copy paste and fix the error along the way
Run the following command to view the configuration:

"set" format:    > set cli config-output-format set

Enter configure mode: > configure
Enter show to see the complete configuration. You can also view certain components, such as "show network interface".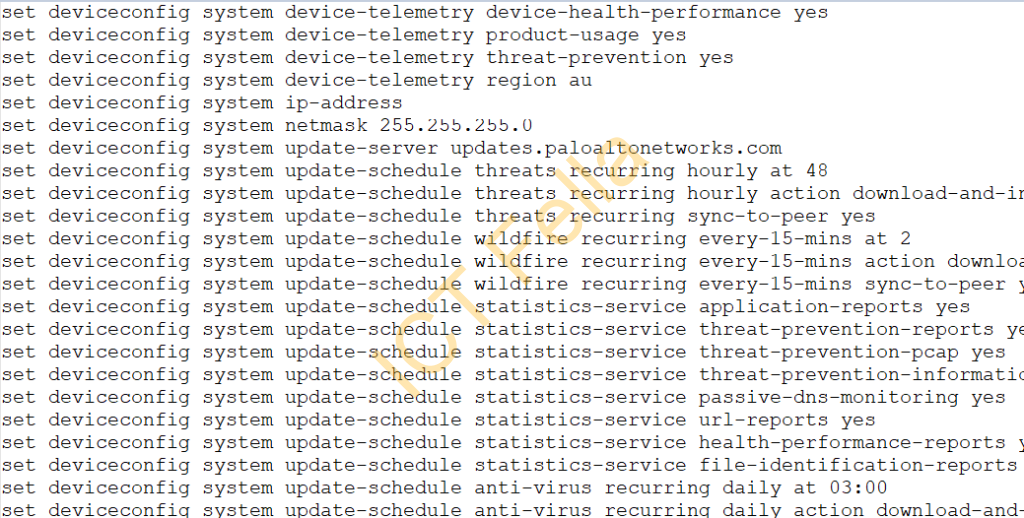 3. Prepare the New Firewall:
Before importing, update the new firewall's PAN-OS to match the version of the old firewall, especially if there's a significant version difference. If not possible, be prepared to adjust configurations that might not be compatible.
Make sure the new firewall can access licenses, updates, and other services by configuring basic management and DNS settings.
4. Import Configuration to the New Firewall:
Follow the earlier steps to import the configuration to the new Palo Alto firewall.
Commit the changes to apply the configuration.
5. Post-Import Checks:
Interface Checks: Confirm that interfaces are up and receiving/transmitting traffic correctly.
Policy Checks: Ensure security, NAT, and policy-based forwarding rules are correctly applied.
VPN Checks: If VPNs are in use, ensure they are up and operational.
Log and Monitor: Check logs to ensure traffic is flowing as expected and there are no unexpected denies or errors.
Test Failover (if applicable): If the firewall is part of a High Availability (HA) pair, test failover to ensure both firewalls are working correctly.
6. Additional Recommendations:
If you're changing models, you might need to adjust interface configurations, especially if there's a difference in the number of interfaces or types of interfaces.
Features or settings available in one model may not be in another, so be aware of any model-specific features you're using.
After migrating, it's a good idea to have a maintenance window. This way, if issues arise, they can be addressed without significantly impacting users or services.
Consider utilizing Palo Alto's Migration Tool. It's designed to help customers migrate configurations from older devices and even other vendor devices to newer Palo Alto devices.
Lastly, always have a rollback plan. Whether that's keeping the old firewall on standby or having a recent backup of the new firewall's initial state, it's good to be prepared.
Useful Links
https://knowledgebase.paloaltonetworks.com/KCSArticleDetail?id=kA10g000000ClHoCAK